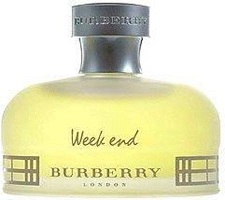 Weekend for Women Burberry for women
This relaxing, powdery fragrance is dedicated to weekend. A relaxing country style perfume, named Weekend for Women. Top notes include sweet and zesty mandarine and aromatic grassy notes. Heart notes contain blue hyacinth, iris, nectarine, peach flower, red cyclamen and wild rose. The drydown is a perfect blend of sandalwood, cedar and musk. It was created by Nathalie Lorson in 1997.
Perfume Pyramid:
Top Notes:mandarin orange,sage,mignonette.
Middle Notes:nectarine,violet root,iris,peach blossom,rose hip,red cyclamen,blue hyacinth.
Base Notes:sandalwood, cedar and musk.